Winexpert - World Vineyard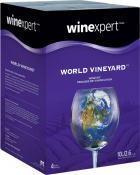 World Vineyard

Ready in 4 weeks - 10L & 12L wine kit - makes approximately 30 - 750 ml bottles.

Wines from Australia, California, South America and Europe are represented in the World Vineyard Collection. These wines are perfect if you enjoy versatile wines which don't require extended aging but still offer distinct flavours from some of the great wine regions in the world.
Winexpert'sTM World VineyardTM collection wine kits give winemakers the opportunity to make great wines from around the world.
Featuring popular grape varietals with grape juices and concentrates from some of the finest growing regions in the world.
This kit produces high quality wines that you can enjoy within one month after bottling.
WORLD VINEYARD - WHITE WINE KITS
Chardonnay, Australia

Ready in 4 weeks





Supple and slightly buttery, this wine lingers on the palate with layers of toast and spice. Extremely versatile with foods, this is the red wine' of white wines, combining beautifully with grilled pork, chicken, fish, salads and cream-based pasta sauces.
PC 000048

Moscato, California

Ready in 4 weeks





Lush, fruity, and delightfully sweet with juicy peach and tropical fruit flavours.

Alc: 8.5%
PC 004586

Müller-Thurgau, Germany

Ready in 4 weeks





Müller-Thurgau (Moo-lehr Tirr-gow) Delicious flavours apricot, green apple and peach aromas of Riesling, and the early ripening qualities of Silvaner.A great sipping wine, it's a perfect choice for potato chips (there's nothing like a crisp glass of Müller-Thurgau and some crunchy chips!) but mostly it's a very satisfying wine to quench a thirst in good company.
PC 000051

Pinot Grigio, Italy

Ready in 4 weeks





The Italians have their own way with the Pinot Gris grape variety, and in the process they create a special magic with it that's unmatched elsewhere in the wine world. Though dry in character and with a pleasant zip of acidity, this Pinot Grigio shows off a pleasant floral fragrance and tremendous fruit flavours, making it the perfect picnic accompaniment.
PC 000053

Riesling, Washington

Ready in 4 weeks






World Vineyard Washington Riesling has a distinctive floral and green apple aroma mixed with mineral elements from its Washington vineyard, giving it a brisk, 'racy' quality. Its high natural level of acidity enables it to balance a hint of residual sugar, setting off aromas of rose petal, apple, pear, peach and apricot and leading to a grand crisp finish of flinty mineral notes. Riesling is the longest-lived of all white wines.
PC 000055

Sauvignon Blanc, Chile

Ready in 4 weeks





Steely, grassy, herbaceous the classic traits of palate-cleansing Sauvignon Blanc are here in this version sourced directly from the French countryside. Crisp and dry, this refreshing wine is a fabulous match with food, as its full, fresh flavours and wonderfully balanced acidity make it essential with chicken, fish and grilled vegetables.
PC 007316

Trinity White, California

Ready in 4 weeks





A unique blend of Colombard, Sauv Blanc and Semillon, combining lemon and grapefruit aromas with rounded fruit, redolent of melons and frsh figs to round out this crisp refreshing medium-bodied white.
PC 000052

WORLD VINEYARD - RED WINE KITS
Cabernet Sauvignon with Grape Skins, Australia

Ready in 4 weeks





Sweet and spicy on the nose, this is a fruit forward wine with flavours of cherry, raspberry and black currant finishing with rich, velvety tannins. Try with a charred gruyere burger, a mushroom pizza with tomato sauce or some marinated rib eye steak.
PC 003781

Cabernet Sauvignon, France

Ready in 4 weeks





All the classic associations with this well-known grape variety used in France's brilliant red wine blends are here in this Cabernet brought in directly from France: rich, intense aromas, deep berry fruits, healthy tannins, and a smooth, lingering finish. With the proper tannin astringency and premium French oak evident throughout, this is an elegant wine offering body and complexity when aged.
PC 000066

Grenache Shiraz Mourvèdre with Grape Skins, Australia

Ready in 4 weeks





Crimson colour with aromas of ripe berries & subtle spice on the nose. On the palate, sweet plum & black fruit with a hint of tobacco. Enjoy this food friendly blend with hearty meat dishes, lamb or herbed pork tenderloin.
PC 003778

Malbec, Chile

Ready in 4 weeks





The hot dry climate allows the grapes to reach excellent ripeness, and lush fruity characters, making an intense, black wine. A thick-skinned grape full of colour, tannin and flavour, Malbec makes wines of great power and character, with blackberry, plums, tar, red pepper, sweet cherry, spice, licorice and deep bittersweet notes, almost like unsweetened chocolate, or espresso.
PC 000059
Merlot with Grape Skins, Washington

Ready in 4 weeks





Ruby red colour with a nose of fruit and spice. Rich silky flavors of red berries, spice and plum with a smooth finish. Pair this Merlot with roasted duck breast or beef burgundy.
PC 003787

Merlot, Chile

Ready in 4 weeks



This reputable Merlot is a soft and supple variation with powerful fruit and spicy flavours. Renowned for its ripe cherry character, the Merlot is a perfect partner for red meats, lamb, and hearty stews. A must have on those crisp autumn evenings.
PC 000060

Nebbiolo Style, Italy

Ready in 4 weeks





Medium in body with a luminous dark cherry colour Winexpert World Vineyard Barolo has rich, spicy fruit and delivers the true character of the grape and land. Typical flavours are cherries, violets, black licorice, truffles and it finishes with rich, chewy, deep and long-lasting flavour. Burly, assertive 'chewy' wine, it is not for the faint of heart, but for those seeking intensity and complexity, there is nothing else like Barolo.
PC 000065

Pinot Noir, California

Ready in 4 weeks





World Vineyard California Pinot Noir creates a lasting impression on the palate with an intense ripe-grape and black cherry aroma, accented by a spicy suggestion of cinnamon and mint. Medium-full bodied and rich but not heavy, it's perfectly balanced with alcohol acid and tannin working harmoniously, and has substantial flavour despite its delicacy. It has an appealing soft, velvety texture, like liquid silk gently caressing the palate.
PC 000061

Sangiovese, Italy

Ready in 4 weeks





The lively fruit and good acidity make it one of the most food-friendly of all reds, pairing well with pasta, veal Parmigiana, intensely flavoured cheeses, and fruits like cherries, figs, plums and raspberries.
PC 000064

Shiraz, Australia

Ready in 4 weeks





Australia's route to fame on the world wine stage, Shiraz from Down Under offers lush berry aromas that beg for a hearty whiff. A wine of ripe fullness, its concentrated blackberry fruits and fragrant spiciness are a delight on the tongue. It has the uncanny quality of allowing early consumption despite its complexity and bigness'. Robust and lively, Australian Shiraz is a savoury treat.
PC 000058

Tempranillo, Spain

Ready in 4 weeks





Gorgeous ruby red in colour, this medium-bodied wine is Spain's answer to Cabernet Sauvignon, with berry, plum and herbal notes running to a lush finish of tobacco, leather and vanilla.
Serve with roast pork, sheep's milk cheeses, roasted vegetables or lamb.
PC 000063
Trinity Red, California

Ready in 4 weeks





An ideal blending of three of California 's most popular grape varieties - Cabernet Franc, Cabernet Sauvignon, and Merlot, coming together to make a perfectly balanced, well- structured dry red wine. Notes of black cherry and coffee complement the smokey, herbal flavours, and hints of vanilla that round out this medium bodied wine , making it highly enjoyable for any occasion. Serve with a roast dinner or barbecued steak.
PC 000062
Zinfandel, California

Ready in 4 weeks





A deep flavourful red wine with notes of raspberry, black cherries, figs, dark chocolate and a jamminess that finishes with a peppery spice.
PC 006488