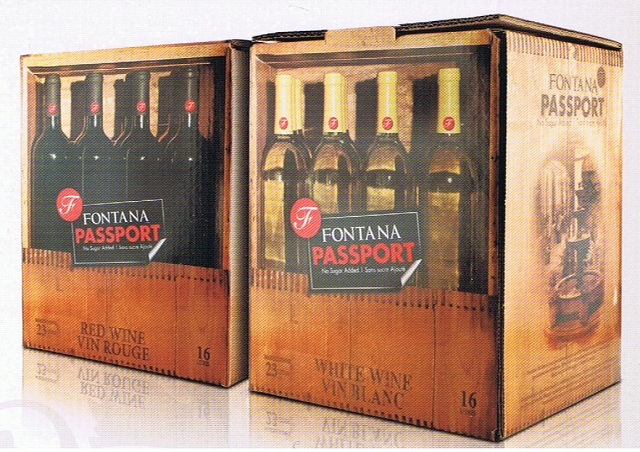 Skillfully blended to produce a quality vintage without using liquid invert sugar, Fontana Trio wines are your premium choice for a smell and taste that are the highest degree of quality.
Six Week - 16 Liter Wine Kit (produces approximately 30 - 750 ml bottles

AMERICAN TRIO
VIOGNIER, RIESLING, CHARDONNAY
Fruity and sweet, lush and buttery, this medium-bodied white wine blend is extremely drinkable. A real crowd-pleaser, it combines the dry, exotic flavours of Viognier with Riesling's intense notes of fresh pear, apricot and honey, and the oaky overtones and hints of apple, pear, citrus, and melon for which Chardonnay is so famous. This blend is perfect for casual evenings with friends or formal dinners. Pair it with bold but light flavours, such as Blue cheese, havarti, seafood and spicier dishes. The blend can also be used to complement a range of desserts, including chocolate treats, as well as creamier ones, like cheesecake or tiramisu.
PC 24800

AUSTRALIAN TRIO
SAUVIGNON BLANC, SEMILLON, CHARDONNAY
The Australian Trio blend of Sauvignon Blanc, Semillon and Chardonnay is a sophisticated wine with a range of flavours. A mediun-to-full bodied white wine with a dry feel and bright acidity, the Sauvignon Blanc in this blend offers the crisp, smoky flavours of apple, grass and olive, while the Chardonnay lends notes of buttery oak and Semillion provides a nutty, figgy aspect to its profile. The result is a blend that is as good as a sipping wine at dinner parties on warm to cool evenings as it is for casual gatherings. This blend extremely versatile, paring well with stews, cream sauces, fresh salads and spicier fare. The blend shines especially well when served with chicken or most seafood.
PC 24801
CANADIAN TRIO
CHARDONNAY, RIESLING, PINOT GRIGIO
Buttery oak tones combine with the fresh fruit flavours of apple, apricot and melon in this rich, easy-drinking and versatile wine. To produce this popular blend, smoky Chardonnay is combined with Riesling's hint of fresh pear and apricot offset by bold floral and honey undertones and Pinot Grigio's crisp flavours of honey, wildflower and smoke. The result is a blended white wine that pairs well with grilled, roasted or sauteed dishes, be it white meat or seafood. Veal, pasta and soft, bold cheeses such Camembert, Feta, Swiss and Havarti also work well, as do blue-veined cheeses and some chocolate-based treats.
PC 24802

FRENCH TRIO
CHARDONNAY, MUSCAT, CHENIN BLANC
The buttery, oaky tastes of Chardonnay's apple, pear, citrus and melon meets the amber-hued orange blossom, orange peel and white flowers of Muscat, and Chenin Blanc's light to medium-bodied dry notes of apple, pear, cantaloupe, green melon, banana, lemon, faint cinnamon, nuts, figs, caramel, brown sugar, toffee and candy apple. The result is a white wine blend which can be served in cool weather or warm, offers a richer medium body and pairs well with a range of foods. Serve this blend with white meat, seafood, cream sauces and cheeses including Provolone, Gruyere Brie, and aged Cheddar.
PC 24803

GERMAN TRIO
RIESLING, MULLER THURGAU, GEWURZTRAMINER
The intense flavours of fresh pear and apricot offset by bold floral and honey undertones thai is Riesling, combine with the straw-colored tastes of pear, apricot, and tropical fruits for which Muller-Thurgau is known and the lightly-oaked whispers of rose, tropical fruit and spice offered by Gewurztraminer to create an extremely versatile white wine blend that is medium-bodied and on the sweeter side. A fantastic crowd-pleaser, the German Trio is perfect to serve at casual gatherings or as a sipping wine, and can even complement many desserts, including chocolate-based ones and apple pies. Serve this blend with bold cheeses, from rich and tangy Havarti to sharp, blue-veined Stilton, soft ripened cheeses such as Brie, Feta, Mozzarella or Muenster, grilled seafood or chicken, or spicy foods found in Thai or Middle Eastern cuisine.
PC 24804

ITALIAN TRIO
PINOT GRIGIO, VERDICCHIO, PALOMINO
The Italian Trio is a light -bodied, crisp white wine blend. It combines Pinot Grigio's dry, crisp flavours of honey, wildflower and smoke with the heavy oak, lemon, pear, juicy fruits, and herbal bouquet of Verdicchio along with the light green apple and almond tastes of Palomino. Refreshing and subtle, this is a perfect summer wine, great for warm evenings , barbecues, friendly gatherings and casual entertaining. Easy-drinking and highly-versatile, this white wine combination is especially well-suited to pesto, tomato-based sauces, light meats such as chicken or white seafood, veal, pasta and soft, ripe cheese, such as Camembert and Feta.
PC 24805

AMERICAN TRIO
SHIRAZ, CABERNET SAUVIGNON, PETIT VERDOT
Full-bodied and bold, this blended wine has a deep, rich flavour. It combines all the full-fruit tastes of Shiraz with the cassis, dark red berries, cedar, oak, violets, vanilla, and occasional chocolate of Cabernet Sauvignon. Then Petit Verdot, an old and spicy varietal is added to round out the combination of a wine that is perfect for cool nights and hearty dinners. This blend is well-suited to foods that mirror its characteristics, such as richer, heartier foods like red meat, wine sauces and aged cheeses.
PC 24850

ARGENTINA TRIO
MALBEC, MERLOT, CABERNET SAUVIGNON
Rich and full-fruited, the Argentina trio brings together the lush plums, dark cherries and hints of espresso seen in the best Malbecs, with full-bodied dry Cabernet Sauvignon and the velvety vanilla, cedar and berries of Merlot. The result is a jam-coloured, juicy wine with a velvety texture. This blend is equally well-suited to romantic dinners and informal gatherings such as cocktail parties and evenings by the fire. Serve with roasted red meats, mushrooms, salmon, duck or tomato-based dishes. Each complements the wine's subtle sweetness and mild tannins. Mild cheeses, pepper and mustard also accents this blend's unique flavour profile.
PC 24856

AUSTRALIAN TRIO
CABERNET SAUVIGNON, SHIRAZ, MERLOT
This combination of Cabernet Sauvignon, Shiraz and Merlot is full on body, light on oak and filled with fruit. It blends the dry, deep notes of violets, vanilla and cassis for which Cabernet Sauvignon is known, with the mixed berries and cedar of Merlot, and the jam-like spice of Shiraz to create a wine that is exceptionally versatile. This blend is fruity but not too sweet, bold-flavoured but not to the point it can't be served with pork or mild cheese. Sufficiently easy to drink during an evening with friends, but still elegant enough to serve at more formal affairs. Serve this blend with foods that are equally strong in flavour, such as roasted meats, game, wine sauce, ripe cheeses, and other rich dishes.
PC 24851

CANADIAN TRIO
PINOT NOIR, MERLOT, GAMAY NOIR
The Canadian Trio is perfect for those who want a red wine but prefer a drier, lighter body with a juicy quality. Pinot Noir lends its hints of cherries, raspberries, strawberries, plums and spice. Merlot offers rich black cherry, plum, vanilla, oak, violets and notes of cedar, and Gamay provides lightly perfumed and sugary flavours of tart cherry, raspberry, red plum and red currant. Serve this wine with game birds, poultry, mild red meats, and oily fish such as tuna and salmon. Strong cheeses such as aged Cheddar and Stilton also provide a brilliant complement.
PC 24852

FRENCH TRIO
CABERNET SAUVIGNON, CABERNET FRANC, MERLOT
Ruby-hued, full of fruit and bursting with cedar, the French Trio is not for the faint of heart. It mixes the full-bodied cassis, dark red berry, cedar, oak, violets, vanilla, and sometimes chocolate flavours of Cabernet sauvignon with the medium-to-dark bodied richness of Cabernet Franc's notes of plum, blackberry, raspberry, blueberry, sage, bay leaf, rosemary, tobacco, bell pepper, violets and eucalyptus and velvety Merlot's fruity and rich with flavours of black cherry, plum, vanilla, oak, violets and hints of cedar. Pair this blend with full-bodied foods such as roast lanb, wild game, and grilled meats, sauces such as mustard, pepper or red wine, and firm, ripened cheeses such as Edam, Cheddar and Gouda.
PC 24853

ITALIAN TRIO
SANGIOVESE, MONTEPULCIANO, CHIANTI
The Sangiovese grape provides the base for this bright and velvety blend of red Italiaan wines. Full-bodied and dry with heavy oak, Sangiovese flavours of cherry. cinnamon, herbs, vanilla and violets blend with the deep red with an intense nose of strawberries, ripe plum, peaches, and cherries with hints of leather, tobacco, and fading red flowers for which Montepulciano is known. Then, Chianti is added for its medium-body, dry, heavy oak and velvety texture. The result is a complex wine with hints of ripe cherries, berries and peaches with soft tannins and just enough acidity to make the palate bright. A versatile wine, this red complements a number of foods, including meatballs, veal, lasagna, pizza, pasta and roast beef. It also pairs particularly well with tomato-based sauces and aged cheeses such as Stilton, Roquefort and Gorgonzola.
PC 24854