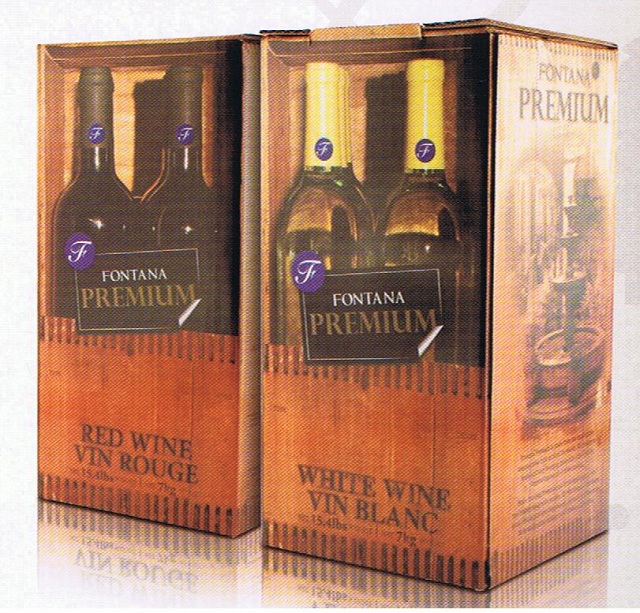 Easy to make and easy to enjoy, Fontana Premium wines are made from the finest grape concentrates around the world.
Four Week - 5.5 Liter Wine Kit (produces approximately 30 - 750 ml bottles)

CHARDONNAY
Buttery with oaky overtones and fresh fruit flavours such as apple, pear, citrus, and melon, Chardonnay is extremely versatile. One of our most popular varieties for its richness and easy drinkability, this wine is best enjoyed in cooler weather with upscale meals. Full-flavoured dishes which have been grilled, roasted or sauteed pair well with this wine. White meat, seafood, cream sauces and cheeses including Provolone, Gruyere, Brie, and aged Cheddar accent this Chardonnay nicely.

PC 24700
LIEBRAUMILCH
Liebfraumilch is a sweet, gentle blended wine made from a selection of Kerner, Muller-Thurgau, Riesling and Silvaner grapes. Sweet and full-bodied with a medium oak, this is a fresh and fruity wine. Serve this well-chilled with a Pungent cheese and crisp fruit, such as apples or pears. A good entertaining wine, Liebfraumilch is best suited for sipping and conversation, such as before or after a meal.
PC 24705
PINOT BLANC
Pinot Blanc is a dry, pleasant wine that is light in body and somewhat similar to Chardonnay in appearance only. Pinot Blanc has a more delicate aroma and features creamy flavours of apples, pears, nuts, minerals and some smoke. This wine is best served at casual gatherings with some type of poultry, seafood or pork.
PC 24708
PINOT GRIGIO
A fantastic summer wine, Pinot Grigio is light-bodied and dry with the crisp flavours of honey, wildflower and smoke. It is perfect for casual entertaining and light Italian foods. This wine is particularly unique because, although a white wine, it possesses many characteristics of red wine on the dinner table. Pinot Grigio pairs well with traditional white wine fare like seafood or chicken, but it can be served with so much more. Veal, pasta and soft cheeses all make fantastic accompaniments to this wine. Camembert, Feta, Oka, and Swiss are especially nice.
PC 24709
RIESLING
Rich and sweet, Riesling boasts the intense flavours of fresh pear and apricot offset by bold floral and honey undertones. Perfect to serve at casual gatherings or as a sipping wine, this wine is a perennial crowd pleaser. Riesling also makes a good dessert wine as it is one of the few whites that pairs well with chocolate. It works well with most bold cheeses, from the rich tanginess of Havarti to the sharp, blue-veined profile of Stilton.
PC 24710
SAUVIGNON BLANC
Crisp and clean, this wine combines the smoky flavours of apple, grass and olive with a bright acidity. A medium-to-full bodied dry wine, Sauvignon Blanc can be heavy or light. It is similar to Chardonnay, but leaner. Its acidity lends it a certain versatility that allows it to pair just as well with thick stews and sauces as it does with fresh salads, spicy foods and cream sauces.
PC 24711
VERDICCHIO
This medium bodied and refreshing white wine has a medium to full body, a dry character and heavy oak. Verdicchio features flavours of lemon and pear with hints of juicy fruits and almond along with an herbal bouquet. This wine is well suited to light dinners and casual entertaining. Verdicchio is an exceptionally good accompaniment to pesto, tomato-based sauces and light meats.
PC 24712
CABERNET SAUVIGNON
Cabernet Sauvignon is a full-bodied, dry wine with very little oak. Flavours of cassis, dark red berries, cedar, oak, violets, vanilla, and sometimes chocolate makes Cabernet Sauvignon the most popular red in the world. Ideal for formal sit-down dinners and cooler temperatures, Cabernet Sauvignon pair well with full-bodied flavours such as roast lamb and wild game, sauces such as mustard, pepper or red wine, and firm, ripened cheeses such as Edam, Cheddar and Gouda.
PC 24754
CORVINA/RONDINELLA (Valpolicella)
Corvina/Rondinella is a medium to full bodied red with medium oak. This wine combines the deep flavours of tart cherries and other dark fruits with toasted oak and firm tannins. Perfect for summer drinking and enjoying outdoors. Corvina/Rondinella has smoky undertones and a refreshing acidity that goes very well with foods that have a similar profile. Pick dishes such as baby back ribs, pepper steak and well-aged cheeses to complement this wine.
PC 24771
GAMAY/PINOT NOIR (B-jolais)
Juicy with flavours of cherries, berries and plums, Gamay/Pinot Noir is a dry , light wine with a medium to full body and medium oak. High in acid and low in tannin, the combination makes it perfect to enjoy and is well suited to the sorts of foods that are usually in the province of white wines, provided they are not too sweet or spicy. Serve this Gamay/Pinot Noir lightly chilled at casual dinner parties and when entertaining informally. It is ideally matched with rich white meats like pork or duck. Light tomato sauces also pair very well with this wine as do creamier cheeses such as Brie, Camembert and Goat cheese.
PC 24752
GRENACHE/SYRAH (Ch Du Pape)
Full-bodied yet surprisingly soft, Grenache/Syrah is quick to mature and aggressive. A deep red hue, this wine is very complex. Flavours and aromas of ripe fruit, berries, plum, spice and oak seems to reveal themselves in layers. Grenache/Syrah is best suited for entertaining when the weather turns cold and menus shift to richer foods. Serve this fruit-forward wine with deeply-flavoured dishes, such as grilled meats, strong cheeses and rich fish.
PC 24772
MALBEC
Full-fruited and rich, Malbec offers a rich character of lush plums, dark cherries and hints of espresso. It also may have hints of vanilla, cedar, and tobacco. Jam-coloured and juicy, this red wine has a velvety texture that makes it well-suited to romantic dinners and evenings by the fire, with food or without. In any case. serving Malbec with a meal or appetizers is exceptionally easy. Its deep fruit character and mild acidity provide a perfect complement to a range of foods, including roasted red meats, tomato-based dishes, mushrooms, and duck. Mild cheeses, peppers, and mustard can also accent Malbec's unique profile.
PC 24761
MERLOT
Fruity and rich with flavours of black cherry, plum, vanilla, oak, violets and hints of cedar, Merlot is a juicy, but dry wine with a velvety texture that makes it extremely friendly and easy to drink. Suiting a wide range of palates, this wine is perfect for romantic dinners, informal gatherings and cocktail parties. Serve this versatile wine with roasted red meats, salmon, duck and mushroom dishes. Pasta with red wine and tomato sauce goes equally well with Merlot, as do mild cheeses. Both complement this wine's smoothness very nicely.
PC 24764
NEBBIOLO (Barolo)
Dry and full-bodied, Nebbiolo has dark earthy and floral beauty, bursting with intense flavours of violet, rose, red cherry, truffle, and liquorice mingled with traces of tar, tobacco smoke and toasted oak with firm acidity. Good for hearty, sit-down meals on cold nights, Nebbiolo pairs perfectly with rich, fully flavoured, earthy foods like thick beef and lamb stews, rich mushroom sauces and strong aged cheese, such as Cheddar or Stilton.
PC 24751
PINOT NOIR
Full-bodied and smooth with a velvet texture, Pinot Noir is deep and dark with hints of cherries, raspberries, strawberries, plums and spice. Juicy but dry this wine is perfect for intimate gatherings or romantic dinners. Given its unique flavour pattern, Pinot Noir is an excellent accompaniment to game birds, poultry, mild red meats, and oily fish such as tuna and salmon.Strong and flavourful cheeses such as aged Cheddar and Stilton also complement this wine nicely.
PC 24766
SANGIOVESE/CANAIOLO (Chianti)
Rich, spicy and complex, this classic Italian red is medium-bodied and dry with heavy oak and a velvety texture. Sangiovese/Canaiolo is a complex wine with hints of ripe cherries, with enough acidity to give it a bright flavour and a soft tannic backdrop. Perfect for parties, heavier meals and barbecue, the clean, crisp spiciness of this wine suits Italian food exceptionally well, highlighting tomato-based sauces with style, whether heavy in cheese, like lasagne, or bursting with vegetables, like the sauce used in Chicken Cacciatore. This Sangiovese/Canaiolo also goes nicely with the flavours of roast beef and lamb stews, as well as soft, ripe cheeses such as Brie and Camembert. Sangiovese/Canaiolo needs a bit of boldness to bring out its unique palate.
PC 24758
SHIRAZ
Flavours of mixed berries, black pepper, anise and vanilla tannins are tempered with a heavy oak in Shiraz. Spicy and dense with highlights of mint. This wine is an intense and full-bodied gem with a bold colour and full- fruit mouth that is especially well-suited to formal entertaining on cool evenings or dinners by a fire. Shiraz is best matched with foods that are just as bold as it is. Aged cheeses, hearty stews and roast meat are ideal companions.
PC 24770
ZINFANDEL BLUSH
Light, crisp and refreshing with a pale rose hue, Zinfandel Blush combines the delicate flavours of strawberries and raspberries with sharp floral notes and a hint of spice to make a wine that is easy to drink and perfect for warm weather entertaining. Serve Zinfandel Blush with fruits, olives, seafood, shellfish, poached fish, steamed chicken, and salads to complement its flavour best. Mediterranean foods and other similarly spiced flavours also accent this wine nicely, as do soft, slightly sweet cheeses such as Brie.
PC 24722