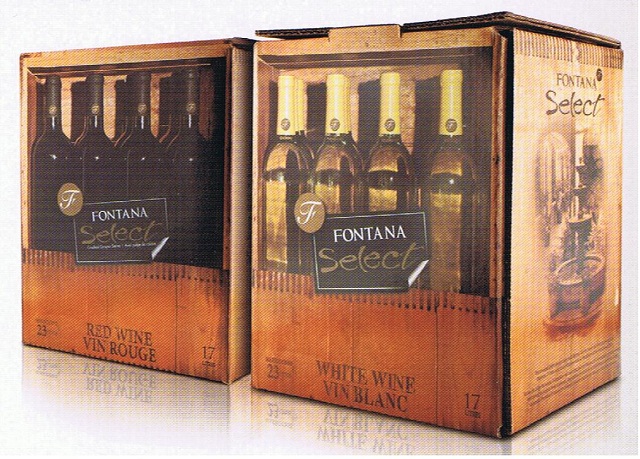 Crushed Grape Series:
The Fontana Crushed Grape Series brings fresh flavour, rich tannins and deep colour to every glass. With all natural grape skins, this pack produces vibrant wines with full body.
Six Week - 17 Liter Red Wine Kit (produces approximately 30 - 750 ml bottles)

CABERNET SAUVIGNON with Grape Skins
Cabernet Sauvignon is a full-bodied, dry wine with very little oak. Flavours of cassis, dark red berries, cedar, oak, violets, vanilla, and sometimes chocolate makes Cabernet Sauvignon the most popular red in the world. Ideal for formal sit-down dinners and cooler temperatures, Cabernet Sauvignon pair well with full-bodied flavours such as roast lamb and wild game, sauces such as mustard, pepper or red wine, and firm, ripened cheeses such as Edam, Cheddar and Gouda.
PC 24254

CORVINA (Amarone)
with Grape Skins
Juicy plum, cherry and raspberry married with vanilla, spice and heavy oak in this hearty Italian wine renowned for its big, velvety elegance and slightly sweet finish. Perfect for formal dinner parties and heartier meals, a dry and full-bodied Corvina is best when paired with bold flavours such as braised red meats, rich red wine sauces, wild game and ripe hard cheeses.
PC 24250

MALBEC with Grape Skins
Full-fruited and rich, Malbec offers a rich character of lush plums, dark cherries and hints of espresso. It also may have hints of vanilla, cedar, and tobacco. Jam-coloured and juicy, this red wine has a velvety texture that makes it well-suited to romantic dinners and evenings by the fire, with food or without. In any case. serving Malbec with a meal or appetizers is exceptionally easy. Its deep fruit character and mild acidity provide a perfect complement to a range of foods, including roasted red meats, tomato-based dishes, mushrooms, and duck. Mild cheeses, peppers, and mustard can also accent Malbec's unique profile.
PC 24261

MERLOT with Grape Skins
Fruity and rich with flavours of black cherry, plum, vanilla, oak, violets and hints of cedar, Merlot is a juicy, but dry wine with a velvety texture that makes it extremely friendly and easy to drink. Suiting a wide range of palates, this wine is perfect for romantic dinners, informal gatherings and cocktail parties. Serve this versatile wine with roasted red meats, salmon, duck and mushroom dishes. Pasta with red wine and tomato sauce goes equally well with Merlot, as do mild cheeses. Both complement this wine's smoothness very nicely.
PC 24264

NEBBIOLO (Barolo) with Grape Skins

Dry and full-bodied, Nebbiolo has dark earthy and floral beauty, bursting with intense flavours of violet, rose, red cherry, truffle, and liquorice mingled with traces of tar, tobacco smoke and toasted oak with firm acidity. Good for hearty, sit-down meals on cold nights, Nebbiolo pairs perfectly with rich, fully flavoured, earthy foods like thick beef and lamb stews, rich mushroom sauces and strong aged cheese, such as Cheddar or Stilton.
PC 24251

SHIRAZ with Grape Skins
Intensely coloured with a jam-like flavour, Shiraz is full-bodied, bold and spicy. With flavours of mixed berries, black pepper, anise and oaky vanilla tannins, this is a big wine, perfect for cool nights and dinners by the fire. Serve this wine with equally rich dishes, such as brisket, steak, veal, stew or pork chops. Shiraz pairs equally well with firm, ripe cheeses such as Edam, gouda and aged Cheddar.
PC 24270