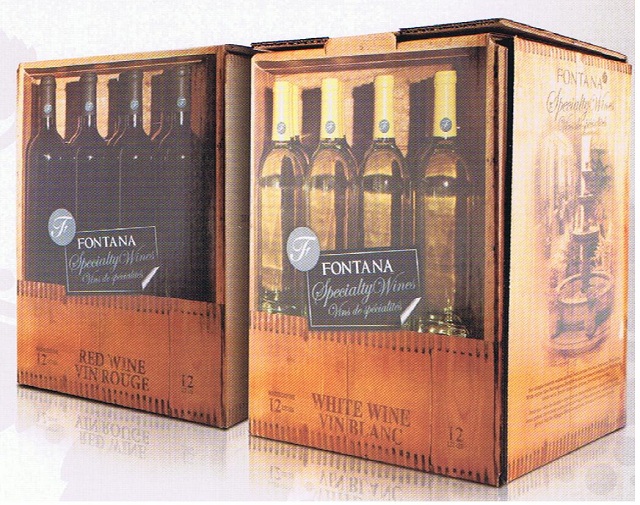 For simple dessert wines at their finest, look no further than Fontana Specialty Wines. With varieties like our award winning Ice Style Wine made from North American grapes or our lush Port style wine, you can't go wrong.
Six week - 12 liter - (produces approximately 30 - 375 ml or 15 - 750 ml bottles)

ICE STYLE WINE
Ice wine is a very late harvest wine. The last grapes of the season are left on the vine to freeze, allowing the sugars and solids in the grapes to become more concentrated as the water in the grapes turns to ice. The result is a very sweet, medium to full bodied wine with long lingering finishes. The refreshing sweetness is balanced by high acidity. With its high sugar level and robust acidity, this wine possesses a distinct fruitiness, aroma and freshness. With its flavours of pear, peach, citrus, apple, fig, and honey, amongst others, ice wine is just sweet enough to serve after dinner with cheese or light dessert.
PC 24887

ICE STYLE WINE
Incredibly rich with berry flavours and candied fruit aromas, Red Ice Style Wine has a lingering sweetness followed by a lengthy finish. It has a bright garnet colour with a very rounded and sensory impression. Best described as lush sweetness, this wine is typical of other ice wines, offering a strong, sweet, and fruity flavour offset by a concentrated acidity. Serve on its own or with a Pungent cheese like Stilton.
PC 24889

PORT STYLE WINE
Few flavours delight the palate like a nice port wine. Complex and structured, with flavours of plum, raisin, and chocolate, this sweet red wine has additional spirits added to it to increase the alcohol content. Port wines are usually served after dinner on their own because of their rich fruity flavours. They also make elegant accompaniments to desserts, nuts, chocolate and cheeses. For a special treat, try pairing your Port Style Wine with a good, aged Stilton cheese.
PC 24888