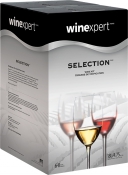 Selection

Ready in 6-8 weeks - 16L wine kit - makes approximately 30 - 750 ml bottles.
Winexpert's most popular premium wines are made from the Selection series and those who demand wines with exceptional body, flavour and aroma will be able to choose the perfect accompaniment for every occasion from over 40 available wine kits in this series.

SelectionTM is a world-class collection of wine. A combination of 100% pure varietal grape juice and premium grape concentrates results in a full-bodied wine with superior flavour, aroma and complexity.
With SelectionTM, WinexpertTM brings you fine grape varietals and blends, showcasing the distinct styles of the world's most prominent winemaking regions, delivering a collection of premium winemaking kits harvested across the globe.
SELECTION - WHITE WINE KITS
Chardonnay, Australia

Ready in 6 weeks




Leave it to the Aussies to take the noble French grape and turn it into the wine equivalent of a full-on party. The Chardonnays of Australia continue to wow wine drinkers around the world with their unabashed celebration of opulent fruit and vanilla-oak, full-bodied flavour. Our Chardonnay is no exception. Full, supple, buttery and fruity, this golden wine delivers from start to clean, lingering finish. Ideal with chicken, fish, salads and cream-sauce pastas.
PC 004596
Chardonnay, California

Ready in 6 weeks





Full of citrus and tropical fruit flavours and warm vanilla oak
PC 004632
Gewürztraminer, California

Ready in 6 weeks

This immensely charming, exotic wine is true to its German translation: spicy. Deeply coloured and opulently aromatic, with an unmistakably flowery perfume and flavours of lychees and roses. Crisp, lush, and refreshing - a wonderful match with spicy foods, strong cheeses and fresh fruits.
PC 004622
Luna Bianca
Ready in 6 weeks
Winexpert's biggest, boldest white wine ever. In the spirit of the great full-bodied Chardonnays of California and Australia, Luna Bianca is lush, golden and rich. Dense, luscious, buttery aromas dance up from the glass. Flavours of tropical fruits blend with the vanilla-oak backing.
PC 004641
Müller-Thurgau, Germany

Ready in 6 weeks

Developed as a cross combining the lively qualities of Riesling with the viticultural reliability of Sylvaner, Germany's most widely cultivated grape attains rare heights in aroma and flavour. Winexpert's German Mller-Thurgau is crisp and clean, with a grapey fruit character, low to medium acidity, and a pleasantly fragrant aroma. Vibrant flavours of crunchy green apples are imparted in its floral residual sweetness, aided by the addition of our F-pack* finishing package.
PC 004602
Pinot Grigio, Italy

Ready in 6 weeks
The uniquely Italian version of the well known Pinot Gris grape, picked earlier in Italy than in all other regions and well before its characteristic loss of acidity at ripening, for a bright, crisp, dry white wine with a gentle perfume and a detectable spiciness. Fresh, fragrant and lively, its flavours include a certain flintiness with hints of citrus and almonds.
PC 004603
Riesling, California

Ready in 6 weeks

The character of this fine varietal is truly distinctive. Displays a flowery bouquet, complex fruit and cinnamon flavours and a crisp, clean finish. Versatile in pairing with foods, especially seafood, pork or veal.
PC 004634
Sauvignon Blanc, California

Ready in 6 weeks

Crisp and flavourful, this popular grape varietal has distinctive and immediately recognizable aroma and flavour characteristics. The famous grassy, herbaceous bouquet and flinty aftertaste are here, with the generous acidity that is typical of the grape. Steely, grassy, and defiantly dry, nothing can complement a meal better than Sauvignon Blanc, a unique wine that offers a definitive counterpoint to the ubiquitous Chardonnay.
PC 004626
Symphony, California

Ready in 6 weeks


A white wine with the incredibly intense aromas of melon, grapefruit, mango, peach, banana and papaya. The fruity character picks up a strong backbone from the good acidity, and hint of tannin, carried over from the Grenache Gris grape.
PC 004637
Traminer-Riesling, Australia

Ready in 6 weeks



The lively golden hue reveals a combination of floral notes and apple crispness with perfumed headiness of lychee, rose petals, and hints of passion fruit. The long finish and medium body makes a great off-dry wine for sipping.
Excellent with Asian cuisine, soft cheeses, oily fish and especially smoked salmon.

PC 004597
Viognier, California

Ready in 6 weeks
The intense fruitiness of this beguiling wine suggests rich sweetness, but it shows a surprisingly dry and aromatic finish. A delicate yellow colour, tinged with the variety's typical 'green-gold' hue, it bursts out of the glass with apricot, peach and spice aromas. As it matures, it can also display hints of jasmine, honeysuckle, kiwi, mint, orange blossom and even mango! While higher in alcohol than many white wines, it drinks well young nonetheless. Lower acidity makes it friendly to a wide range of foods, but it's 'soft but strong' character makes it excellent for sipping alone.
PC 004635
SELECTION - RED WINE KITS
Cabernet Sauvignon Merlot, California
Ready in 6 weeks

This popular blend combines the plump, fruity, earlier ageing Merlot grape with the robust Cabernet Sauvignon grape for a powerful match.
PC 004623
Cabernet Sauvignon, Australia

Ready in 6 weeks

The bold, individualistic style of Australia's winemakers has unleashed the full potential behind the king of red grapes', captured here in our Australian Cabernet Sauvignon. Combines forward fruit flavours of cherry, raspberry and blackcurrant with a tremendous backing of tannin and structure. Rich and polished with a long, layered finish warmly accentuated with oak.
PC 004605
Cabernet Sauvignon, California
Ready in 6 weeks

The noble California red grape. Rich in tannis, it produces a deep, full-bodied wine with intense aroma and flavour. A robust wine, perfect with red meat or wild game. Best when aged for several months.
PC 004636
Cabernet Sauvignon Shiraz, Australia

Ready in 6 weeks




The blend that made Australia famous. Cabernet Sauvignon's structural intensity perfectly complements the ripe fruit and chocolate flavors of Shiraz, for rich, complex and hearty red wine of outstanding character. Big, bold and dark a luxurious treat.
PC 004606
Carmenère, Chile

Ready in 6 weeks

Deep crimson, with dark cherry aroma, red fruits and berry notes running to a smoky, spicy finish with notes of dark chocolate and tobacco. With medium body and moderate tannins, Carmenre drinks well young and improves with age.
Drink with grilled beef, pizza, or dark chocolate.
PC 004611
Enigma, California

Ready in 6 weeks

Introducing a bold, enigmatic blend from Selection. Intense fruit aromas and notes of black cherry, coffee, chocolate and vanilla. Full bodied with a smooth, round finish.
Food friendly, this wine pairs well with everything from pizza to pasta and is a great match for meats like ribs or chicken with sweet and sticky marinade.
PC 005306
Grenache / Shiraz / Mourvèdre, Australia

Ready in 6 weeks





The blending of these three grapes is a classic, originating in the South of France where Côtes du Rhone and Chateauneuf du Pape concentrate on these varieties. The small, thick skinned berries are deep blue-black in colour, high in extract, flavour, aroma and tannin.
PC 004607
Luna Rossa
Ready in 6 weeks

Bold, robust and intense: Winexpert's 'Big Red' is the largest, most full-bodied red wine ever released! A dark, inviting colour and rich, bold oak-enchanced aromas suggest at what is to come: an abundance of mouth-filling, chewy berry flavours. Luna Rossa is complex, with rich layers of fruit and solid supporting tannins, capped by a long oak finish. A powerful wine matching startling flavours and aromas with elegance and finesse.
PC 004628
Merlot, California

Ready in 6 weeks





The plump, lush fruitness of this respected grape translates into a wine which perfectly balances berry and spice flavours with a smooth, supple texture. Mouth-filling and delicious; a standout with grilled meats.
PC 004624
Merlot, France

Ready in 6 weeks

Direct from the vineyards of southern France, this classic varietal is rich with ripe fruit and berry flavours, yet soft and elegant. Dry, full-bodied and deeply coloured, with a complex velvety taste accentuated with premium French oak.
PC 004615
Montepulciano Style, Italy

Ready in 6 weeks



Montepulciano is a vigorous red grape variety widely planted over much of east-central Italy, capable of creating deeply coloured, rich red wines with blackberry fruit flavours and spicy, peppery tannin levels. Montepulciano generally produces wines that are smooth and mellow yet robust and mouth filling, with dependably high alcohol content. Superb with veal and pasta an Italian gem you won't want to miss.
PC 004616
Nebbiolo Style, Italy

Ready in 6 weeks





Large and robust, this style is the one that lovers of big wines are looking for. Made famous in Italy's Piedmont region - highly regarded for its finest wines - this Barolo is rich in flavour and deep in colour, with a rounded oak aroma that lingers on the finish. Not surprisingly, Barolo is a consistently popular offering year in and year out.
PC 007034
Pinot Noir, Chile

Ready in 6 weeks




Winexpert's Selection International Series Chilean Pinot Noir is a bright ruby colour with delicate aromas of red berry flavours. Medium bodied and supple with a hint of herbiness, the mouth feel is very elegant with soft tannins and a subtle oak finish. Vibrant and food friendly, this wine is excellent with salmon, roast beef and lamb.
PC 004610
Pinot Noir, New Zealand
Ready in 6 weeks


New Zealand's finest. A delicate wine with aromas of violet and luscious red fruit characteristics of cherry, strawberry and raspberry. Silky tannins grip your palate and end with a velvet, smooth finish. An elusive aftertaste of spice & toasty vanilla makes you long for more.
PC 004618
Sangiovese
Ready in 6 weeks



The pride of Italy's Tuscany region, this blend is famous for its full, dry character and elegant flavours of cherries and blackberries. Sturdy and robust, with tangy undertones and a slight spiciness. Ageing uncovers its complex depth of flavour.
Sweetness:
Body:
Oak:
PC 007033






Shiraz, Australia

Ready in 6 weeks





The grape that was made for Down Under - its hot climate perfec for bringing out the best traits in this popular grape varietal. Australian Shiraz is seductively delicious, with startlingly rich, ripe aromas that deliver right through to the full zesty finish. Amazingly, the style allows for polished tannins early, so the young wine is not rough or harsh. The aged version retains the core fruit flavours of plums, cherries and blackberries, but gains extra polish. Pair this Shiraz with flavourful meals!
PC 004608
Valroza, Italy
Ready in 6 weeks




Italian style wine with a delicate bouquet and a rich texture. Ruby red colour. Fragrant and fruity. The addition of oak enhances its aroma.
PC 007032
Vieux Chateau du Roi
Ready in 6 weeks



Full-bodied, yet soft and quick to mature, this is the perennially popular French red wine blend that continues to keep them coming back with its smooth, easy charms. A Winexpert specialty blending a host of grape varieties, each contributing to the layers of aroma and flavours that make this so special. Complex and full of character, yet supple and easy drinking.
PC 007036
SELECTION - BLUSH WINE KITS
White Zinfandel, California

Ready in 6 weeks
Complete with Winexpert's innovative F-pack, this blush favourite displays the trademark pink hues and a soft, refreshing taste that make it particularly enjoyable as a chilled delight on a summer afternoon. Must be tried to be believed.
PC 004625